Shopping for swimming suits used to mean that you were stuck with the ideal bikini bottom and an ill-fitting top that made your cleavage look weird all season (the Elan cover-up was your best friend). Thankfully, swimwear designers took notice of this a few years ago and started including more separates in their collections.
Our body types are all so different, so while some can do a one-stop shop bikini, for most, having the ability to mix and match pieces makes the shopping experience a lot easier and fun. The collections are still cohesive in fabric and style, but offering more separates allows the shopper to not only get a better fit (no more saggy bottoms!), but to also be creative. It's also a great way to save money on swimsuits. When you mix and match, buying two sets of two-piece bikinis is like getting four totally unique swim outfits!
Once you determine which brands work best for your body, you can then be more playful with your look, putting together different color combinations that will really showcase your personal style. With so many options to choose from now, it would be kinda crazy to leave the online store with only one suit, so grab a few to get the most out of your swimwear this season. The easiest way to double your swimwear? Mix and match different prints, pair prints with solids, or try colorblocking with various hues. Here are a few tips to remember when you go shopping: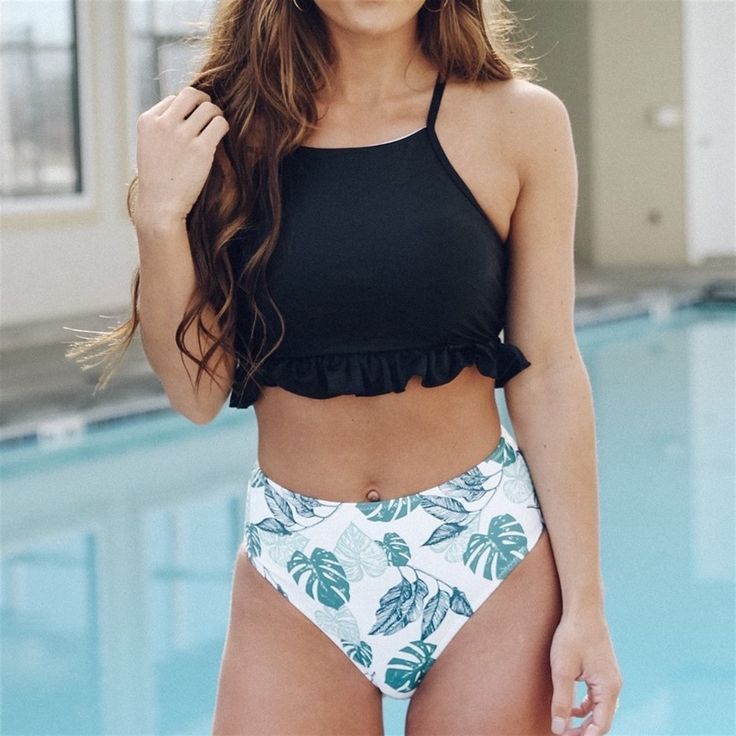 Prints on Prints
Yes, you CAN mix different prints together when shopping for your swimwear. Florals and stripes, animal prints and florals, paisley and graphic patterns-they all look good together. The key is to select your grounding color to build your look around so that the pairing looks effortless. It doesn't have to be a neutral; a poppy pink or bright blue is ok, but make sure that the patterns are similar in size.
Prints and Solids
If you're not ready to be that bold with patterns, you can still mix prints and a solid color for a look that's stylish and unique. The simplest way is to choose a neutral bottom (black or navy help minimize your bum), and pair it with your favorite tribal, floral, or chevron print top. Look for one that also has a small pop of color to make the look even more modish. Don't be afraid to be a little daring with the colors and combinations. Bikinis were made to push boundaries.
Color Blocking
Color blocking is also a fun way to mix up your swimwear without stepping too far outside of your comfort zone. Experiment by mixing up your primary colors, or choose pastels like mint, peach or lavender. When colorblocking, keep your coloring in mind: sometimes pastels can make those with pink undertones look washed out, while jewel tones like amethyst and teal pop beautifully against tanned skin. If you're terrified that you may get the shade combinations wrong, stick with black, white, and navy. The color trio is timeless.
Trading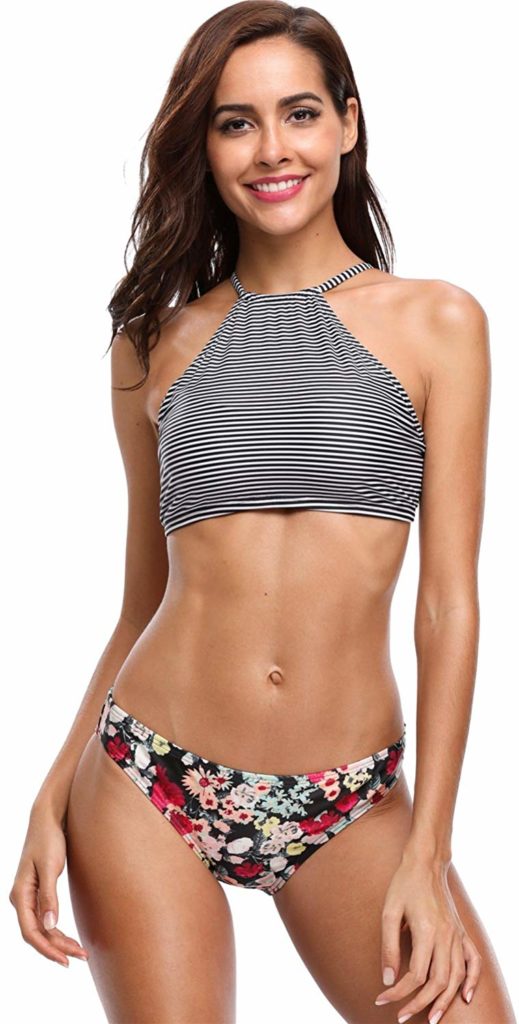 Having fiends is great. Having a friend who's a similar size to you. Jackpot! By trading with friends you're not limited to just what you've bought. It opens the mix and match possibilities even further.  You'll also get great honest feedback from your friend if a mix doesn't look right. Maybe even get a group of friends together and have a bikini trading party!   What's great about shopping online at SwimsuitsDirect.com for two piece bathing suits, is with free shipping and free returns on all swimwear there's no risk trying a new color or style combination. If it doesn't work just send it back for a full refund. Buying online also gives you a much bigger selection of swimwear and it's easy to get just one part of a separate two piece suit. When mixing up your prints and colors, it may take a few tries to find what work best but it's ok. Take your most stylish friend to serve as your personal stylist and try on various brands to find the fit and look most perfect for you. So find your perfect match and then mix it up.